www.mytinyworld.co.uk

Welcome to the MyTinyWorlds Winter Newsletter 2010
Like most of you we are looking forward to 2010 and all of us at MyTinyWorld would like to thank you for your valuable and loyal custom throughtout 2009.

We have been very busy designing our new ranges for 2010, many of which are introduced later on in this newsletter others can be found on our website. Of particular interest to many of our American customers is our soon to be released "Herbs, Potions and Magical Ingredients" range of labels.

There will be over 200 herbs, 50 potions and 50 magicial ingredients. We have designed each and every one of them to be full of detail and have aged them beautifully. They will be released in 1:24th, 1:12th, 1:10th, 1:8th, 1:6th, half life size (1:2) and life size (1:1). Click the image below for a larger version.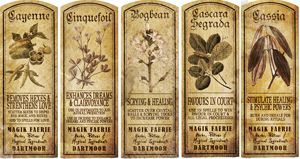 We have a large range of new period carpets and tapestries to release, a massive range of over 400 cast metal items, plaster roses and coving, a large custom collection of wallpapers and borders, wooden flooring and huge range of MyTinyWorld flower kits...

Please take a moment to look through the rest of the newsletter to get a glimpse of some of our new products we have already released and future releases.
Visit our shop and take a look!
Our Extensive Range of Handmade Cocktails Go Down A Storm!
We launched this unique quality range of cocktails in summer 2009 and have been totally bowled over with the response from our customers. Subsequently we have introduced a further 20 cocktails to suppliment the range and satisfy our customers "thirst" for these mini masterpieces.

Some of the new ones to look out for; Shanghai Punsch, Black Forest Martini, Yellow Birds, Green Lady, Sun Bursts and China Whites.

Real Glass, Real Class. This is a collectors item.

50 different cocktails available.
Witches And Wizards Delight
To celebrate our forthcoming launch of our exclusive witches and wizards range of herbs, potions and magic ingredients labels we have extended our range of handmade "witchy" style glassware. A further 30 tear drop decanters / apothercary bottles, 20 potions bottles and a whole assortment of jars for ingredients and brews have been added to our already extensive collection ensuring you have the best looking, fully stocked witches cottage and apothecaries out there!

This glass is extremely fine not the thick chunky glass available elsewhere. We have Never had any feedback other than excellent from our happy customers.
MyTinyWorld Are Proud To Release Our Hand Knitted Range
This totally unique range of 100% hand knitted bears, dolls and tea cosies are exclusive to us and we spend considerable amounts of time and energy designing stunning and beautiful pieces that compliment and enhance your dolls house scenes.

Every single stitch is done by hand in the UK by a very talented local lady. Each one takes around 6 hours to make and no 2 are the same.

These items are very limited in numbers and are not available in quantity, so if your looking for something that is top quality and hard to get hold of look no further.
Getting Ready For The Garden
Brrrrr!! Winters nearly over and we can start to think about those lovely warms times ahead! Heres a brand new collection designed and made by MyTinyWorld to keep your dolls busy in their garden. This collection is full of really high quality, beautifully designed and made items that just simply make your dolls house garden the envy of everyone.

Our favourite has to be the old style tin bath full of rain water and algae.
We Listen To What You Want.
"Shops, Displays, Shops, Counters, Displays, Food Counters, Displays and more Displays!" Pretty much thats been on virtually every wish list our customers have given to us. Well, shop away. We have just designed, made and introduced an eyewatering 37 new designs.

Our vastly extended range offers some of the best counters and shops displays available at very reasonable prices.
We Now Have Over 400 Different Designs In Our Cake Range
Everyone knows us for our cakes. We have small cakes, large cakes, round cakes, square cakes, heart cake, christmas cakes, sheet cakes, fruit cakes, chocolate cakes and wedding cakes!

We now have luxurious 2 and 3 tier cakes and an additional 140 new designs! Remember each and every one of these cakes is handmade from air dried clay making each one a work of art which a healthy dash of love and care put into each one.

We think we have a cake for everything. If you cannot find what you need just drop us an email and we will see if we can make what you need.
Dolls House Miniatures And Nail Art Canes Range
MyTinyWorld has been making FIMO canes for dolls house enthusiasts for over 2 years and have in the last year expanded into the nail art market where our products have met with phenominal success. Our nail art products are stocked in 83 countries by shops and wholesalers and are also sold under our brand by the largest beauty and makeup distributor worldwide.

These canes are hand crafted from Polymer Clay to our designs and many are totally unique. Many of the fruit and vegetable canes and slices are used by miniaturists for making 1/12th scale food.

Visit our website for a selection of over 600 different designs, lots of tutorials and photos of the products in use.

Below is a small selection of our range shown in groups. The chocolate range is proving very popular.
New products in the shop ...

COMING IN FEBRUARY

We are about to launch a range of our canes UNBAKED and 20mm Diameter.

These will be perfect for making earrings, braclets, pendants, buttons or for miniaturists who want to roll them to their chosen scale.



LAUNCHED IN JANUARY

A new line of products has now been launched - The cake ring range.

These handmade rings have one of our highly detailed cakes attached and really make you centre of attention!

There are currently 10 in the range and we are working on more deisgns.


MINIATURIST SUPPLIES

We now stock and sell various supplies suck as blades, cutters, boards, clays and various tools.

We will be adding a full range of FIMO, air dried clays and other model making supplies over the coming months.
You are subscribed to the MyTinyWorld Newsletter as XXLLXX. If you do not wish to receive any more news from MyTinyWorld please click here.

THIS WILL AUTOMATICALLY UNSUBSCRIBE YOU WITH NO CONFIRMATION MESSAGE - YOU WILL NO LONGER RECEIVE OUR NEWSLETTER

Alternatively, email unsubscribe@mytinyworld.co.uk with your unsubscribe request.