IN THIS ISSUE:

| | |
| --- | --- |
| | 6 Inch Hand Made English Rose Arches |
| | Nail Art collection released |
| | New Garden & Garden DIY range |
| | Paul Recommends... |

Welcome to our first MyTinyWorld newsletter.

Have we got a treat for you with our brand new Summer Garden collection.

Also in this issue we're introducing our latest range - Canes and Slices for Nail Art and Miniaturists.

Thank you for subscribing to the newsletter - look out for tutorials and competions in the future issues!

Limited Edition hand made Rose Arches
Miniaturists Heaven - Fruit, leaves and feathers canes and slices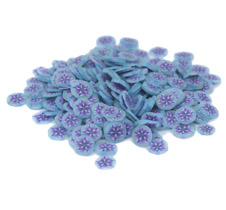 Terrie, who makes and designs a lot of our products here at MyTinyWorld has been making canes (very similar to sticks of rock with a design running through them), for many years.

A while back we were approached by a large European distributer to supply canes and slices for the European Nail Art Market. Since then we have designed over 60 new canes including, fruit, vegetable, flowers, leaves, feathers and Hallowean themes canes.
We have just started to release them for general retail and they have proved to be a fantastic success. The top 5 are, Banana Cane, Kiwi Cane, Cucumber slices, Blue Flower Cane and our Red Leaf slices.
For the duration of August any order from the MyTinWorld website will automatically have a free cane slice sample pack sent with it.
Click here to visit our shop and buy!
DIY Garden Kits and Trees
We have just release as part of our Summer Garden Collection, a set of 12 miniature bonsai trees, which are hand made with a resin trunk, air dried clay flowers, leaves and fruits and a ceramic vase.

Our DIY Garden Kits are collections of themed hand made flexible clay flowers arranged in a special clay that is moldable.

You can shape these DIY flower beds to paths, around corners and even cut to fit. They come in 2 sizes, Large and small and there are 20 different ones. Priced between £1.50 and £4.00 these are very affordable .
New products in the shop ...
Paul recommends ...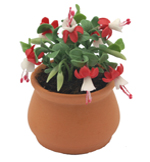 I especially like the range of hand made english flowers and common flowers we have introduced over the last month. My personal favourite are the fuscias and from the feedback we have received from our customers they are a real hit!

Don't forget, we have a huge range of flowers including over 100 standard flowers, 100+ Permium flowers, a huge range in glass vases and of course the new range in urns and terracotta pots.